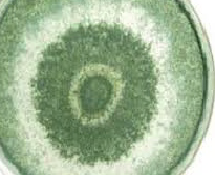 It is Trichoderma harzianum, and has proven to be useful incontrolling common soil - borne diseases and act effectively against grey mold , Fusarium, Damping off by pythium, Bacterial wilt, Blight and leaf spot. BIO TRICO (H) is effective on a wide range of crops including corn, soybeans, Tobbaco, Groundnut, potatoes, tomatoes and vegetable and horticulture crops.
MODE OF ACTION :
Bio TRICO (H) forms a physical bond with the root system of the plants, establishing itself in the root zone and prevent other pathogens from colonizing the soil. IT also feeds on excess nutrient content left unused by the root system, which would provide a food source for incoming pathogens otherwise. It is known to control pest through mycoparasitism, it secretes lytic enzyme & other Complex Inhibitory Compounds that kills pest.
METHOD OF APPLICATION FOLIAR APPLICATION :
: Soil application by DRIP Irrigation : Mix 4- 5 Kg BIO TIRCO (H) in 50 L of water and mix well and drench it in soil
SOIL APPLICATION :
: Mix 40- 50 Kg/ Acre of BIO TRICO (H) in 500kg of compost & apply to root zone to control pathogenic nematodes in soil.
packing :
100/250/500Gm